TwoFace


Beating an ASPX Shell Game
Threat Defense Maneuver:
Web Shell Alteration

Trinity Cyber Threat Detection experts are continuously developing an effective set of response maneuvers to control the desired outcome to known cyber threats.
An example of a Threat Defense Maneuver is Web Shell Alteration. By employing Web Shell Alteration prior to the threat attacker penetrating the network, companies can best prevent a TwoFace attack. TwoFace is a malicious ASPX web shell, composed of HighShell and HyperShell, that was originally exposed in 2017. If successful, it can easily grant attackers access to the compromised web server.
Read this Threat Brief to learn:
How to detect TwoFace attacks
How to use a web shell alteration to neutralize the attack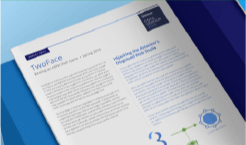 Beat TwoFace Attacks Today
Download the Threat Brief.
Extend Your Defensive Strategies Beyond Your Perimeter
Deploy Trinity Cyber Managed Threat Prevention Solution to Stop Attacks Before They Reach Your Network

Man-in-the-Middle Countermeasures
For limitless maneuverability and better prevention than IPS.

Secured, Trusted Internet Traffic
Without interrupting operations or burdening end users.

Mission-Driven Managed Solution
From experts in defending against all forms of attacks.
© 2020 Trinity Cyber, Inc. All Rights Reserved.