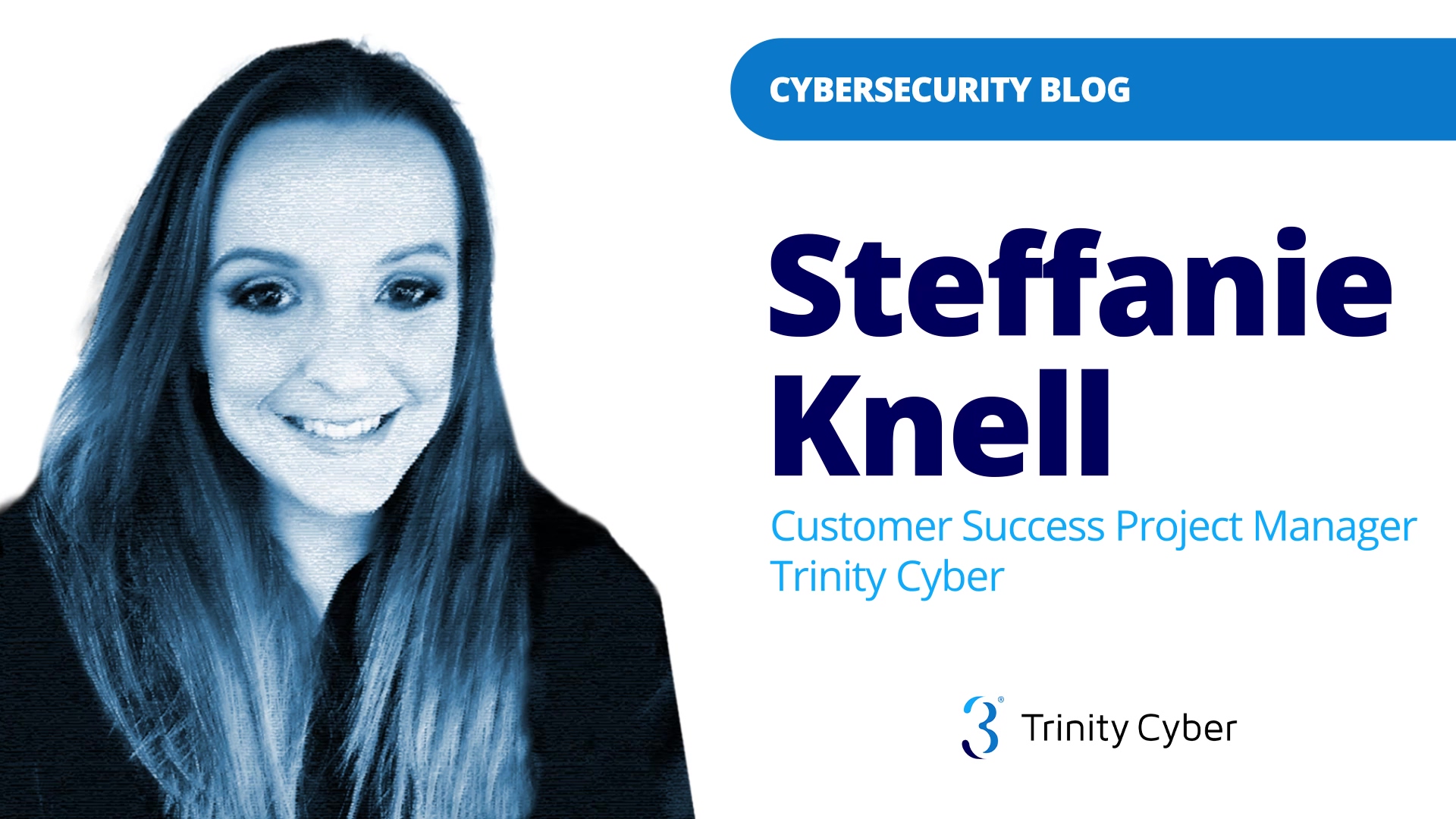 The Start of a New Career Chapter in Cybersecurity
It can be intimidating to start a new career chapter—especially when your current career is going well. After 12 years as an administrative professional at the National Security Agency (NSA) Steffanie Knell was proud of what she accomplished, but also realized to move forward, she wanted to learn about a new world—the ins and outs of cybersecurity itself. "I felt that I couldn't develop any new skills without understanding more about cybersecurity," she says. "I wanted to know and understand what the office I was working in was actually doing."
With that insight, Steffanie embarked on a series of classes at the University of Maryland Global Campus to gain insight into the cybersecurity industry. When she shared her plans with Trinity Cyber co-founder Steve Ryan and other members of NSA leadership, they encouraged her to continue, allowing Steffanie to take an eight-week rotation in the operation center to hone her skills. Those eight weeks quickly morphed into two years as Steffanie became more intrigued by the unfolding universe of cybersecurity. "I found it fascinating," she says.
Beginning a New Adventure with Trinity Cyber
She's not alone. The number of cybersecurity job postings has grown 94% since 2013, compared to only 30% for IT positions overall, found a study by Burning Glass Technologies. This explosive growth means that qualified workers are often hard to find in the industry. The same study found that on average, IT jobs take 41 days to fill while cybersecurity roles take 20% longer owing to the tight job market. Because of this need for qualified employees, the field is unusually open to on-the-job-training and interested in recruiting applicants from a wide range of backgrounds.
That was Steffanie's experience. In 2017, the opportunity to join Trinity Cyber presented itself. "I was going to work for Steve again, who is an amazing leader, not just a boss. And knowing the technology they were going to be building, knowing the impact it could have, why not be a part of that? It was, to me, a very easy decision." And thus, her career at Trinity Cyber began.
Currently, Steffanie works as a Customer Success Project Manager at Trinity Cyber and can't imagine feeling the same satisfaction with work if she hadn't made the switch to cybersecurity. She now encourages family members—who supported her as she changed careers—to explore making the same leap. And she's constantly fighting the stereotypes that keep people from joining this industry.
The Learning Curve is Part of the Appeal
"Cyber isn't just hackers and coders and engineers," says Steffanie. "Cyber security is all of those things, plus project managers, administrative professionals, marketing. People see cybersecurity and they think, 'Coding, I don't know how to do that. I can't work in that field.' But that's not true."
While there is a learning curve, pushing herself was part of the appeal of switching careers. She's now embarked on a lifetime of learning new skills and says she can't imagine herself in any other field. "Admittedly, sometimes I don't know what these guys are talking about," she laughs. "But I know enough to be able to do my job and do it well. And I believe all of us learn something new every day."