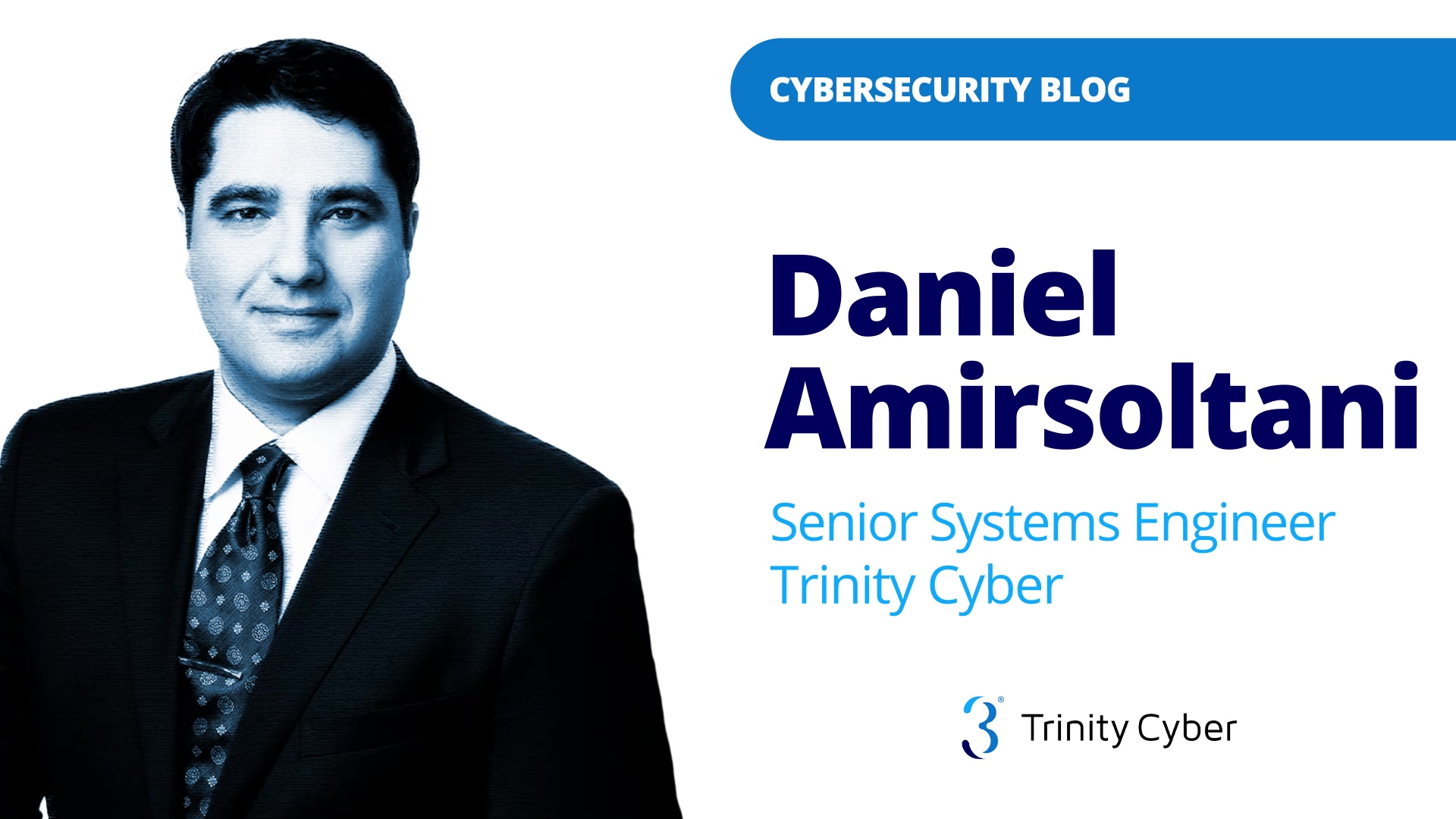 What does it take to work in cybersecurity?
According to Daniel Amirsoltani, it's not a fancy computer science degree or even previous experience that counts the most. What it comes down to is curiosity.
"Curiosity is what drives everything. Finding a thread that you have to pull on until you reach an answer. That is the number one thing I would say defines someone who should work in this industry," Daniel, a Senior Systems Engineer at Trinity Cyber, explains.
That's certainly a quality Daniel brought to cybersecurity. He was always drawn to the sciences and coming from a family steeped in the medical profession, assumed he would take that path. However, medical school didn't appeal to him the way that he thought it would. "What this career gives me that I felt I wasn't going to get from med school is that every day is completely different. It's never monotonous. There's some chaos, and although there is a method to the madness, I enjoyed that chaos. It's where I knew I could thrive."
However, Daniel's career path still didn't run in a traditional manner, something he has in common with many peers he's met in cybersecurity. He tried his hand as a database administrator before realizing the job was a poor fit. He moved on to a position with a Managed Service Provider (MSP), which he credits with exposing him to all different aspects of the cybersecurity industry. From there, he began managing a large municipal signal network for a transportation department.
Shape Your Own Path in Cybersecurity
"This is not an industry, a profession, where there's a formal path—go to school, get a certain license, pass an exam, and hey, now you're trained, you're good to go," he says. "That doesn't exist, everyone takes their own path."
For that reason, Daniel says that although he often gets raised eyebrows when discussing his previous experience, he never feels he's at a disadvantage or that his peers discount his contributions. If anything, he feels at home with a group coming from diverse backgrounds. He says one colleague was a dance major in school before entering the field. When interviewing for a job, he says, "Previous knowledge is almost irrelevant. I don't think anyone expects for candidates to come in already knowing everything and being on the path already."
When he interviewed at Trinity Cyber, Daniel says he was impressed by the people he met and the conversations they had. "I've never worked at a company that had so much technical prowess," he says. "It's humbling." Once again, the sense of curiosity, more than a distinct background, drew Daniel to the company and its CEO and founder, Steve Ryan.
A Dynamic, Rapidly Evolving Field
Today, Daniel encourages anyone with the same curious nature to explore the cybersecurity world. Career options are multiplying constantly as cyber criminals target a wide range of industries and sectors, requiring the need for even more diverse paths in the future. "Your cybersecurity journey will depend on your specific skillset, but also on your unique interests and strengths," he says. "This dynamic, rapidly evolving field offers you the opportunity to shape your career to match your evolving interests."
To those considering a career in cybersecurity, Daniel would counsel keeping an open mind about exact roles. As he also points out, it's not a single, monolithic profession—it's a field made up of hundreds of different specialties and niches. Just as he did, there is room for experimentation, and some opportunities may not present themselves until later down the line. And it's not just the opportunity for personal growth that can be satisfying. Knowing that you are making a difference also provides plenty of job satisfaction.
"I definitely want to stay in cybersecurity—it's addictive," says Daniel. "There's always the next mystery and the next technical challenge to overcome. And even more than that, there's always this feeling that you're doing good. In some of my IT jobs, I thought, 'What am I really doing? I'm just doing maintenance.' But in cybersecurity, there's a very tangible benefit that you're providing. It's one of the things that differentiates cybersecurity from other fields, and it motivates me."