Citrix ADC
Remote Exploits Wreak Havoc on Citrix Infrastructure
Threat Defense Maneuver:
PROTOCOL ALTERATION

Trinity Cyber Threat Detection experts are continuously developing an effective set of response maneuvers to control the desired outcome to known cyber threats.
An example of a Threat Defense Maneuver is Protocol Alteration. By employing Protocol Alteration prior to the threat attacker penetrating the network, companies can best protect from Citrix ADC vulnerabilities from being exploited. Adversaries use different exploitation techniques—from cross site scripting (XSS) to information disclosure to unauthenticated web-endpoint access—and often combine them in attacks against global ADC infrastructure.
Read this Threat Brief to learn:
How to detect Citrix ADC exploits
How to use a protocol alteration to neutralize the attack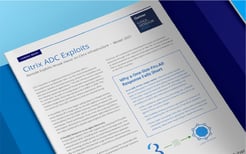 Uncover Citrix ADC Exploits Today
Download the Threat Brief
Extend Your Defensive Strategies Beyond Your Perimeter
Deploy Trinity Cyber Managed Threat Prevention Solution to Stop Attacks Before They Reach Your Network

Man-in-the-Middle Countermeasures
For limitless maneuverability and better prevention than IPS.

Secured, Trusted Internet Traffic
Without interrupting operations or burdening end users.

Mission-Driven Managed Solution
From experts in defending against all forms of attacks.
© 2020 Trinity Cyber, Inc. All Rights Reserved.