Trinity Cyber Protects
What Others Cannot
Gain an Active Layer of Defense & Protection
Trinity Cyber augments traditional in-network detection and response by applying a missing layer of defense. The persistent challenge for defenders is reacting after the adversary has called the play, forcing you to respond as you painstakingly work through a backlog of alerts. Finally, you have a powerful threat prevention solution as a service, a revolutionary and active defense layer that neutralizes advanced threats outside your network to help you see and balance your workload.
Trinity Cyber enables you to gain the advantage in the Attacker/Defender equation.
Trinity Cyber exists to relentlessly stop bad guys through innovation."
—Steve Ryan, Co-founder and Chief Executive Officer of Trinity Cyber
Trinity Cyber Managed Threat Prevention Solution
A Unique Approach That's Proven at Scale
Trinity Cyber is the only provider who delivers a Threat Prevention Solution as a Service utilizing our proprietary, patented technology.
Trusted third party to every internet session, focused on your defense
Full session, bidirectional, inline proxy that acts on threats found within network session
Limitless response options and maneuvers such as replace, alter, remove or impede
Protects traditional networks as well as Secure Access Service Edge architectures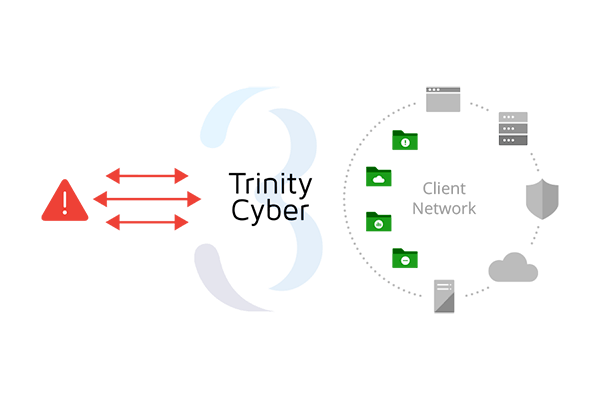 A Dynamic, Active Defense Layer that Neutralizes Risky Bidirectional Traffic in Real Time
Powerful, real-time active defense layer
Stops attacks before they reach your network
Stops exploits from successfully communicating outside your network
Growing array of response maneuvers to keep adversaries guessing
Proactive, Managed Solution Delivered as a Subscription
When you rely solely on defending your business from your perimeter, you're spending the majority of your time and money on reacting to alerts. We deliver your proactive threat prevention solution to help you focus on the right priorities at whichever level of engagement you need. Our team of elite technicians, malware analysts, and reverse engineers and operators run an active man-in-the-middle service and deploy countermeasures on your behalf. The good guy now has limitless maneuverability and security without disrupting business operations.


Take back the defenders' advantage with Trinity Cyber.
Proof We Are Different
In a time when an adversary can go undetected for an average of 191 days, Trinity Cyber can remove threats in milliseconds.
Future-proof, powerful threat protections for today's networks and 'The' future security engine for all SASE deployments.

Unmatched PATENTED security: Using the industry's most stringent and meaningful metrics, we achieve greater than 99.9% accuracy.

Our technology is applied outside of a client's network and security appliances. In-line service means threats are identified and neutralized before they enter a client's network.
This purpose-built system stops threats within full network sessions across all internet traffic and protocols, a new phase in the evolution of cybersecurity.

We do more than just blocking and preventing attacks, we control the internet session's outcome.

Trinity Cyber is the only company offering this level of protection to non-governmental agencies — as one market analyst puts it, "Trinity is actually different."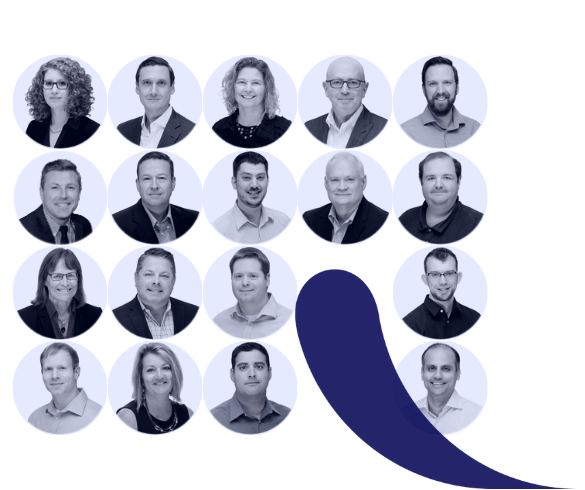 A Veteran Team of Cybersecurity Experts You Can Trust
We exist to relentlessly stop bad guys through innovation.
Trinity Cyber was formed by security experts who were frustrated with current cybersecurity strategies and tactics that allowed adversaries to gain the advantage—from playing whack-a-mole at end points to the degradation of trust in networks. Our analysts have built and refined a repertoire of creative methods to undermine malicious tactics, techniques, and procedures (TTPs) used by some of the most advanced adversaries in cyberspace.
Malicious Code Can Hide, but It Can't Escape Trinity Cyber.
A compromised E-Commerce site contained a second stage exploit, but in this case something amazing happened to the employee researching WiFi cameras. Trinity Cyber kept them safe without them knowing. Talk with us to learn how we addressed even a very sophisticated attack.
Get Further Ahead of Threats and Attacks Than Ever Before
Learn how you can boost your cybersecurity with the most innovative, proactive threat prevention solution out there.