Advanced

Threat Prevention
Threat Prevention Like You've Never Experienced Before
Trinity Cyber stands between your operations and malicious actors as a trusted third party to
every internet session

. Superior detection, unmatched precision, and active man-in-the-middle countermeasures bring defensive operations outside of network perimeters to prevent threats before they reach your network.


Relentless. Unconventional. Trusted.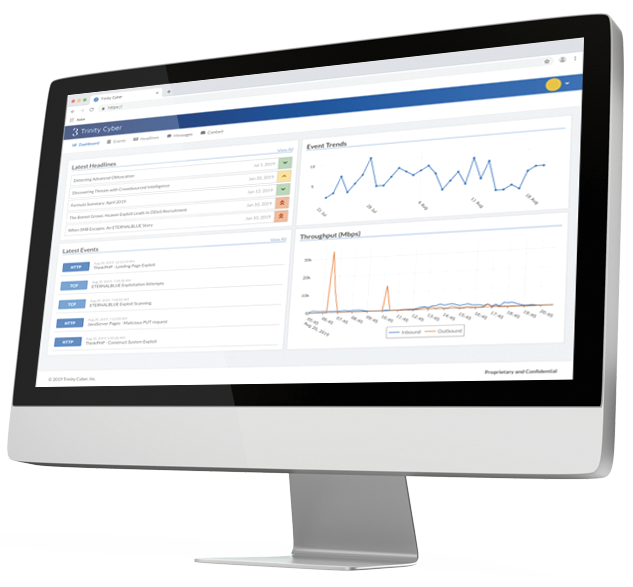 Veteran Defenders of Our Nation's
Most Sensitive Information Systems Relentlessly Stopping Bad Guys From Winning
Trinity Cyber's team of professionals combine decades of experience defending our nation's most sensitive communications and information systems. Our veteran analysts, operators, engineers, and business executives have developed a new approach to how we protect our clients. Our analysts have built and refined a repertoire of creative methods to undermine malicious tactics, techniques, and procedures (TTPs) used by some of the most advanced adversaries in cyberspace. We relentlessly stop bad guys through innovation.

Our unconventional and proven approach represents decades of experience of our executives and carefully selected team. Active defense for your enterprise means that there is a good guy man in the middle defending you without getting in your way.

Trinity Cyber was formed by security experts who were frustrated with current cybersecurity strategies and tactics that allowed adversaries to gain the advantage. No alerts to chase. No tickets to close. No whack-a-mole. Better threat prevention you can trust.
Partner with Us — Revolutionize Active Defense
Join our network of stringently selected partners who provide our clients an active layer of defense for every internet session.
Internet Service Providers (ISPs)
Intercept and neutralize cyber threats before they enter your customer's network.

Managed Service Providers (MSPs)
Deploy fully managed threat prevention capabilities, reduce analyst fatigue and enable reduced operational expenses.

SD-WAN Providers
Integrate state-of-the-art threat prevention services into your services edge.